Gold Standard GAMSAT Preparation Textbooks with Practice Paper and Worked Problems (Australia, Ireland, UK)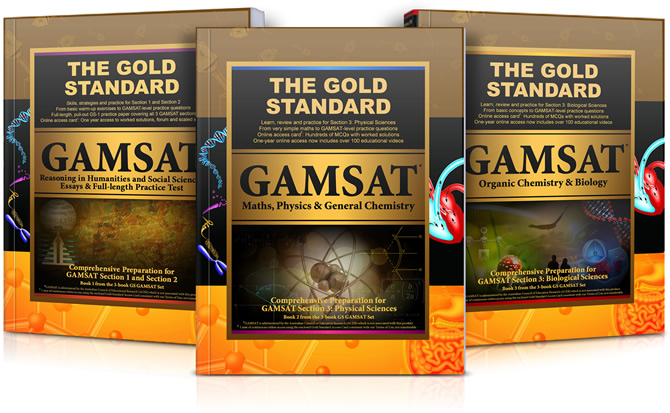 Click image to browse the new Gold Standard GAMSAT.
Gold Standard Preparation for GAMSAT (Australia, Ireland, UK)
Category: GAMSAT Books (ISBN: 978-1-927338-28-5)
2018-2019 Edition (1312 pages)
Skills, strategies and practice for Section 1 and 2
Learn, review and practice for Section 3: Physical Sciences and Biological Sciences
From basic concepts to GAMSAT-level practice questions
Over 1200 MCQs with helpful, worked solutions
One-year online access now includes over 300 educational videos
FREE Shipping
No science background in university? Great in the sciences but little experience reading from the humanities or writing essays? Had a bad experience with a high school physics teacher? Full time arts student? Full time mom? Part time job? It's OK. The Gold Standard GAMSAT has you covered. This is not just a textbook, it is a learning experience.
Gold Standard has now produced the most comprehensive preparation for the GAMSAT. Three textbooks to help you learn each section in incredible depth. All come complete with heaps of extras, including one-year online access. Each textbook is in colour and has over 400 pages (total: 1312 pages; 3.5 kg). The biggest change from previous editions is the adding of brand new pages and content directed at problem-based learning starting with the most elementary ideas in each domain and working right up to complex GAMSAT-style reasoning.
You can order The Gold Standard GAMSAT through our website or your local bookshops (Book 1 – ISBN: 978-1-927338-38-4; Book 2 – ISBN: 978-1-927338-39-1; Book 3 - ISBN: 978-1-927338-40-7): Liverpool University Bookshop, Leeds University Bookshop, John Smith's Bookshop at the University of Southampton, UCD, UCC, Wisepress Bookshop, Blackwell's, Foyles and Waterstone's in London. Click for Gold Standard GAMSAT Testimonials
Free Postage
Dispatch from London
Pick up can be arranged