Medical School Interview UK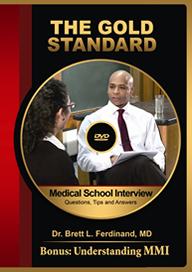 The Medical School Interview:
Questions, Tips and Answers (The Gold Standard: UK, US, Australia)
The Medical School Interview: Questions,Tips and Answers DVD (The Gold Standard: UK, US)
Reproduced Live on Campus
Category: Video (DVD; 1 Disc)
100 minutes, No Regional Code; Filmed in HD
DVD Menu
The Interview
Analysis of Questions and Answers
Interview Commentary, Tips and Strategies
Bonus Features
MMI Questions, Structure and Tips
Product Details
DVD Publisher: Gold-Standard.com; 1 DVD edition (February 21, 2011)
Language: English
ISBN: 9780986691539
Product Dimensions: 7.1 x 5.4 x 0.6 inches
Shipping Weight: 2.9 ounces
Free Postage
Price:
£19

Get Interview Skills!
Product Description
A medical school interview is an intense experience and now it is reproduced and captured on video to be used as a learning tool. This DVD was filmed live in HD on campus in front of a group of premedical students - most of whom were invited for medical school interviews. A volunteer is interviewed in front of the class and the entire interview is conducted as if it were the real thing. Ambiguous questions, ethical questions, pauses, interruptions and other elements are created by an experienced author and interviewer. After the interview, an analysis of each question and the mindset behind it is discussed in an open forum format. If you are not sure that you have the interviewing skills to be accepted to medical school, then this is a must-see video.
One-on-one interviews, group or panel interviews and the multiple mini interview format (MMI) - all share certain principles regarding attire, attitude, strategy and content. Whether you are interviewing in the UK or the US, you will find the advice and techniques demonstrated in this video to be extremely relevant and helpful. Please note that the standardized test that you must take for admissions to medical school (UKCAT GAMSAT BMAT UMAT MCAT) is not relevant to the universal interview advice provided in this video. To see clips from the video, click here: Medical School Interview Questions and Answers
About Dr. Ferdinand
Dr. Brett Ferdinand has developed extensive knowledge of medical school interviews - both one-on-one and MMI - because he sat on admissions committees which have used both interview formats. Over the years, advice from his writings and lectures have helped students gain admissions to medical programmes in the UK, Europe, the US and Australia. Besides being an experienced interviewer, he has written several books including The Gold Standard MCAT which has been nominated for 2 book prizes in the US. He also wrote the first textbook ever for the GAMSAT (graduate entry in the UK, Ireland and Australia). He designed this video to provide tips and strategies for attire and attitude, questions and answers, one-on-one and MMI (multiple mini interview format). Currently, clips from this Interview DVD are #1 on YouTube for the search words "Medical School Interview".
"I personally found this seminar an invaluable experience, and I do believe that this has helped me to gain a better understanding as to what is expected from me in a Medical School Interview. The seminar consisted of a role-play interview with a volunteer, whose answers were later evaluated. Dr Ferdinand emphasized both the good aspects and the faults, whilst constantly giving examples as to how to improve. Additionally, he helped to explain the common thought processes of the interviewer, allowing me to gain valuable insight into how to best structure my answers."
Xian van Gelder, studying BioMedical Science at the University of Warwick
---
"The Medical School Interview seminar is extremely beneficial for those considering Medicine, offering a unique perspective and promoting a confident approach to the interview with useful hints and tips."
Olivia O'Sullivan
Final Year Biomedical Science Undergraduate