GAMSAT Sample Questions
Announcement
We have placed the worked solutions to the ACER Practice Tests on YouTube for free. To view these videos, click here: Gold Standard GAMSAT YouTube
GAMSAT Sample Questions: Official Online PDFs vs. Booklets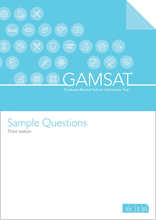 Australia • Ireland • UK GAMSAT Sample Questions
GAMSAT sample questions by ACER are in PDF format (e-book), which became available electronically for the first time in November 2011. Hard copies are no longer available from ACER.
The link above leads to ACER's website where you can purchase the e-book form of GAMSAT Sample Questions. If you happen to have access to a past edition of this mini-practice test then you should know that though the cover has changed over the years, the content has not. However, for the sake of improving the value of your experience with GAMSAT Sample Questions, only use older editions if they are unmarked.
Why ACER's GAMSAT Sample Questions?
The purpose of a practice test is to give you an idea as to what to expect, to point out strengths and weaknesses, to practice under time constraints and to monitor improvements over time. Section 1 and Section 3 in this practice material both contain approximately half as many questions as the corresponding sections of a real test. Despite this, the proper use of this booklet includes timing yourself: 1.3 minutes per question for Section 1 and 1.5 minutes per question for Section 3. If you do not time yourself for your sample testing experience then you will not understand one of the main challenges to excel when sitting the real GAMSAT.
Gold Standard GAMSAT Sample Questions
The Gold Standard Free GAMSAT Sample Test
100% online
Instant access
Includes immediate scores and worked solutions
We have created over 1500 GAMSAT practice questions with worked solutions and instant online access based on our analysis of ACER's published materials and testing patterns. Every question has a separate forum thread to encourage further discussion. To learn about our online mock exams designed by The Gold Standard, click here: GAMSAT practice tests If you also want a revision guide, then consider The Gold Standard textbook since it reviews Section 1, Section 2 and Section 3 in detail (biology, physics, general and organic chemistry) plus there are hundreds of sample questions.
If you wish to sit one of our mock, classroom sample exams in a city in Australia, Ireland or the UK, with analysis and review of the questions/answers, click here: GAMSAT Practice Test and Review
The Gold Standard also offers free GAMSAT practice questions, which features an abbreviated GAMSAT practice test with clear explanations, videos, instant practice exam results and more. If you already have an account on our website then you will find your free practice test, after you login, by clicking Tests in the top Menu and then scrolling down. If not, you can access the Gold Standard (GS) Free GAMSAT Sample Test by clicking here: Free GAMSAT practice test.